Handi Quilter Sweet 16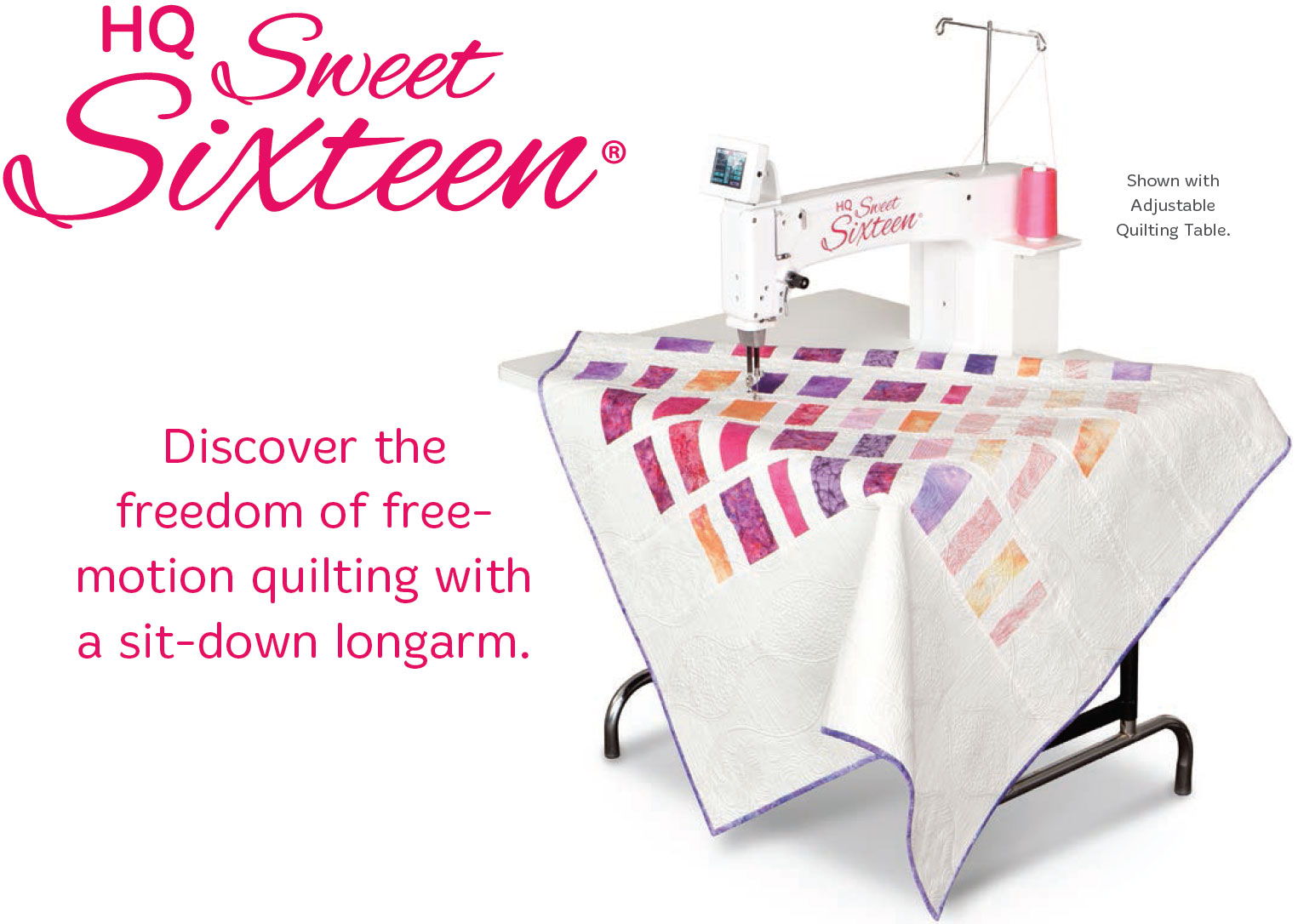 The HQ Sweet Sixteen®
The best selling sit-down longarm machine on the market today.
$5,595 MSRP
$5,995 w/ TruStitch Stitch Regulation 
Introducing the most technologically advanced way to sit-down free motion quilt with stitch-regulation. Handi Quilter's HQ Sweet Sixteen is simply the best way for quilters to tackle projects with a sit-down machine. With the introduction of TruStitch, quilters are now able to create quilt designs with beautifully even stitches.

View machine comparison chart
"I've had my machine for 1 and a half years now and really have found no cons. I LOVE it, I do everything on my sit down sweet sixteen. If you like to free motion, you'll love this machine !!!" - Saydee
If you love free-motion quilting but struggle to fit your project on a domestic machine, you're going to love the HQ Sweet Sixteen®. Throat space of sixteen inches gives you room to work on even a king-size quilt. The smooth surface of the included table allows your project to glide under the needle. The powerful motor handles quilting with ease and stitches up to 1,800 stitches per minute. Choose your own top speed and set it on the easy-to-use color touchscreen.
Machine Features
Easy setup and take down
More than three times the quilting space of home sewing machines with 16 inches of throat space and eight inches of vertical space
36" x 30" Height-adjustable table, from 26 to 42 inches
Easy-Set Tension™* (Patent Pending)
Stitching speed of up to 1,800 precision stitches per minute
Handi Feet mount with quarter-inch ruler foot installed, open-toe foot
Adjustable color touchscreen
Walking stitch plus four basting stitch options, controlled with touchscreen or foot pedal
Needle-stop position control
Quilting alarm and project timer
Low-bobbin estimator and alarm
LED light ring
High-speed rotary hook with large-capacity M-class bobbin
Easy needle change with ergonomic thumb screw
Responsive foot pedal
Four extra bobbins, 20 needles,sample thread pack included
High-speed rotary hook with large-capacity M-class bobbin
Easy needle change with ergonomic thumb screw
Four language options: English, French, German and Spanish*
Built-in diagnostics
All HQ Longarms Feature
HQ Nationwide Retailer/Rep Support
HQ Customer Solutions
HQ Technical Support
HQ Warranty: 10 years casting, 5 years electrical and mechanical*
Handcrafted in the U.S.A.
Getting Started DVD
Educational videos, tutorials and tips available on the HandiQuilter.com website

* New Feature
Featured products
Show products here! Go to the 'Home page - featured products' section of the theme settings in your Admin area to set up the collection you want to show!