Handi Quilter Fusion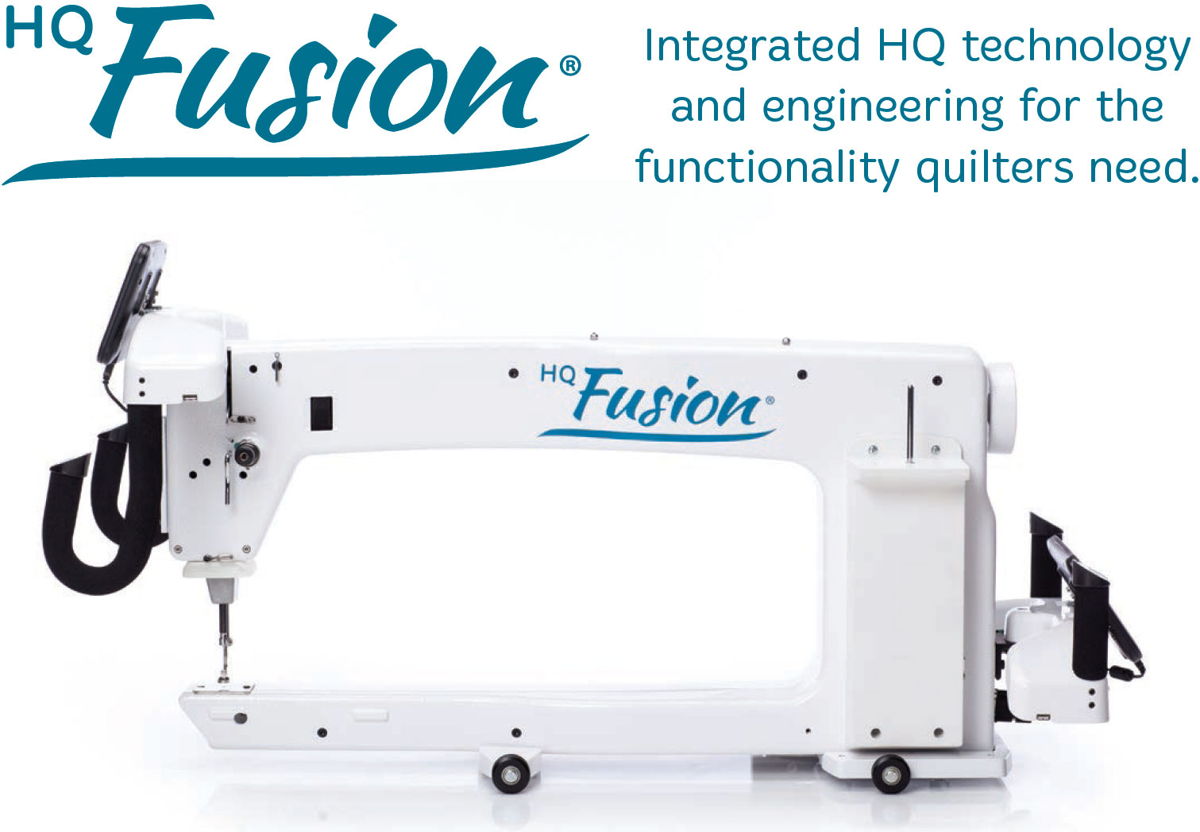 The HQ Fusion®
Professional longarm quilting for home or studio settings
$13,995 MSRP 
$23,990 with HQ Pro-Stitcher Package 
Both prices include 12' Gallery Frame
Take your quilting to the next level with a full 24 inches of throat space. This top of the line Handi Quilter machine is designed for function and quality. Get all of the extra features with this machine including seamless integration with the HQ Pro-Stitcher software. It's time to tackle your biggest ideas!

View machine comparison chart
"My road to my HQ Fusion began with another of my brilliant ideas, to make each of our 28 grandchildren a quilt... My husband has been making more quilts than me, and it is difficult to get time on the machine! We are doing something together, being creative and having fun doing it. Thank you HQ!!" - Marlene & David Elgaaen.
The HQ Fusion combines HQ integrated technology and HQ engineering with all of the functionality quilters demand. Handcrafted in the U.S.A., the HQ Fusion precision stitch-regulated system provides you with the highest quality product of any longarm quilting machine, backed by the HQ warranty and network of local representatives. The HQ Fusion is a high-functioning longarm system that enables you to achieve your quilting vision in your home or professional studio.
Machine Features
Front Power Switch*
Easy-Set Tension™* (Patent Pending)
Low-bobbin estimator and alarm*
Handi Feet mount with quarter-inch ruler foot installed, open-toe foot*
LED light ring
2,400 Stitches per minute
Front hand wheel and power switch
Thread-break sensor with alarm
Four basting stitch options*
Quilting alarm and project timer*
Three manual preset speeds*
Front and rear Ergo-Grip Handlebars™ with controls
Consistent stitch quality from 4 to 24 stitches per inch
Two modes of stitch regulation: Precision and Cruise
Needle-stop position control
Stitch counters
Menu-controlled warm/cool/neutral LED and UV lighting
Integrated, adjustable laser light for pantographs
High-speed rotary hook with large-capacity M-class bobbin
Easy needle change with ergonomic thumb screw
Four language options: English, French, German and Spanish*
Four extra bobbins, 20 needles, sample thread pack and pantograph
Built-in diagnostics
All HQ Longarms Feature
HQ Nationwide Retailer/Rep Support
HQ Customer Support
HQ Technical Solutions
HQ Warranty: 10 years casting, 5 years electrical and mechanical*
Handcrafted in the U.S.A.
Getting Started DVD
Educational videos, tutorials and tips available on the HandiQuilter.com website

* New Feature
Featured products
Show products here! Go to the 'Home page - featured products' section of the theme settings in your Admin area to set up the collection you want to show!