Valiant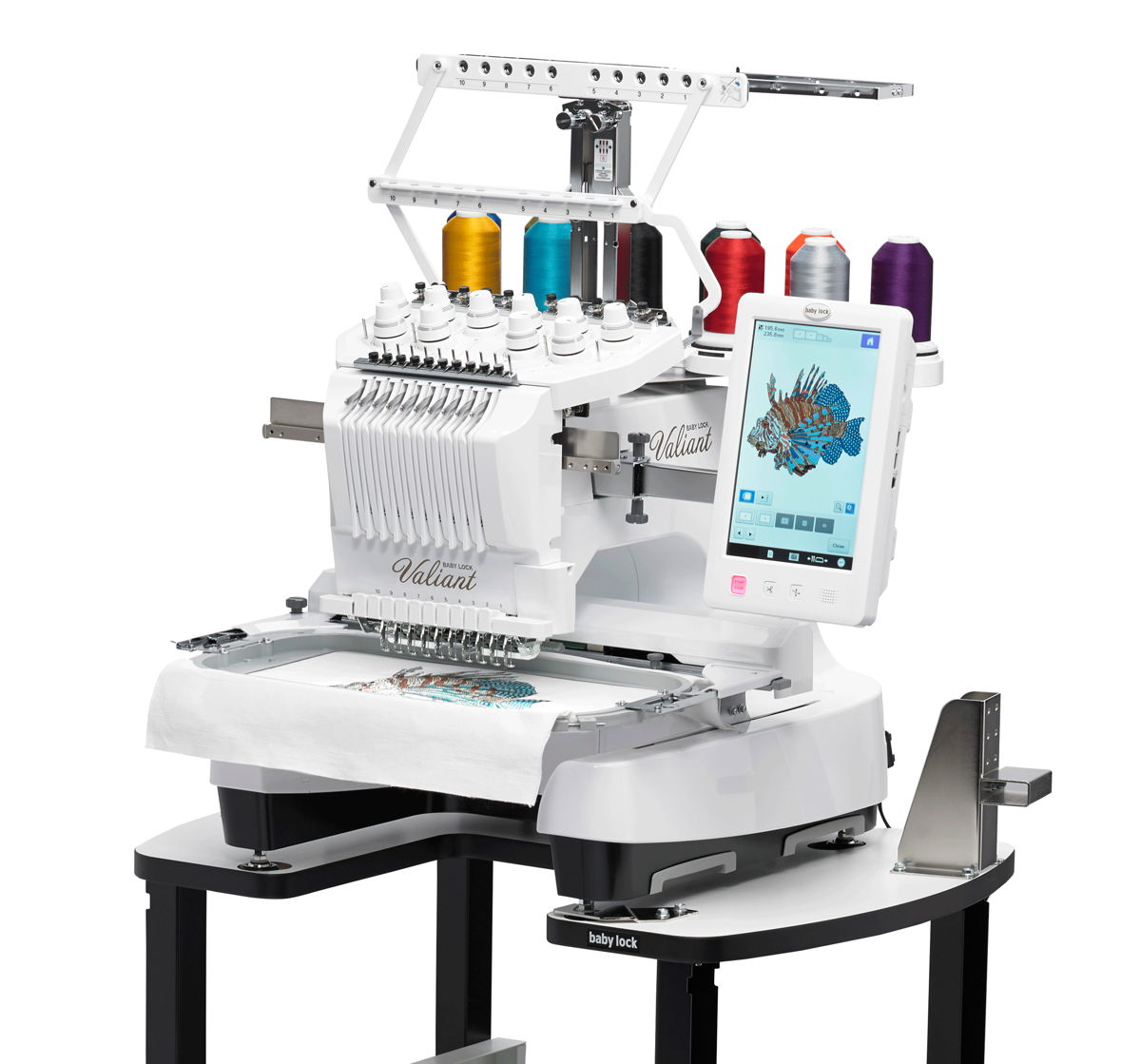 Show your true valor and adventurous spirit with the new multi-needle machine from Baby Lock. This versatile Valiant embroidery machine let's you sew with 10 needles and a 1,000 stitches-per-minute speed. It's the perfect choice when you're looking for industrial power on a home embroidery machine. The Valiant provides the ease of a home machine while helping you create even the most intricate embroidery designs. Let the Valiant machine help your business venture grow.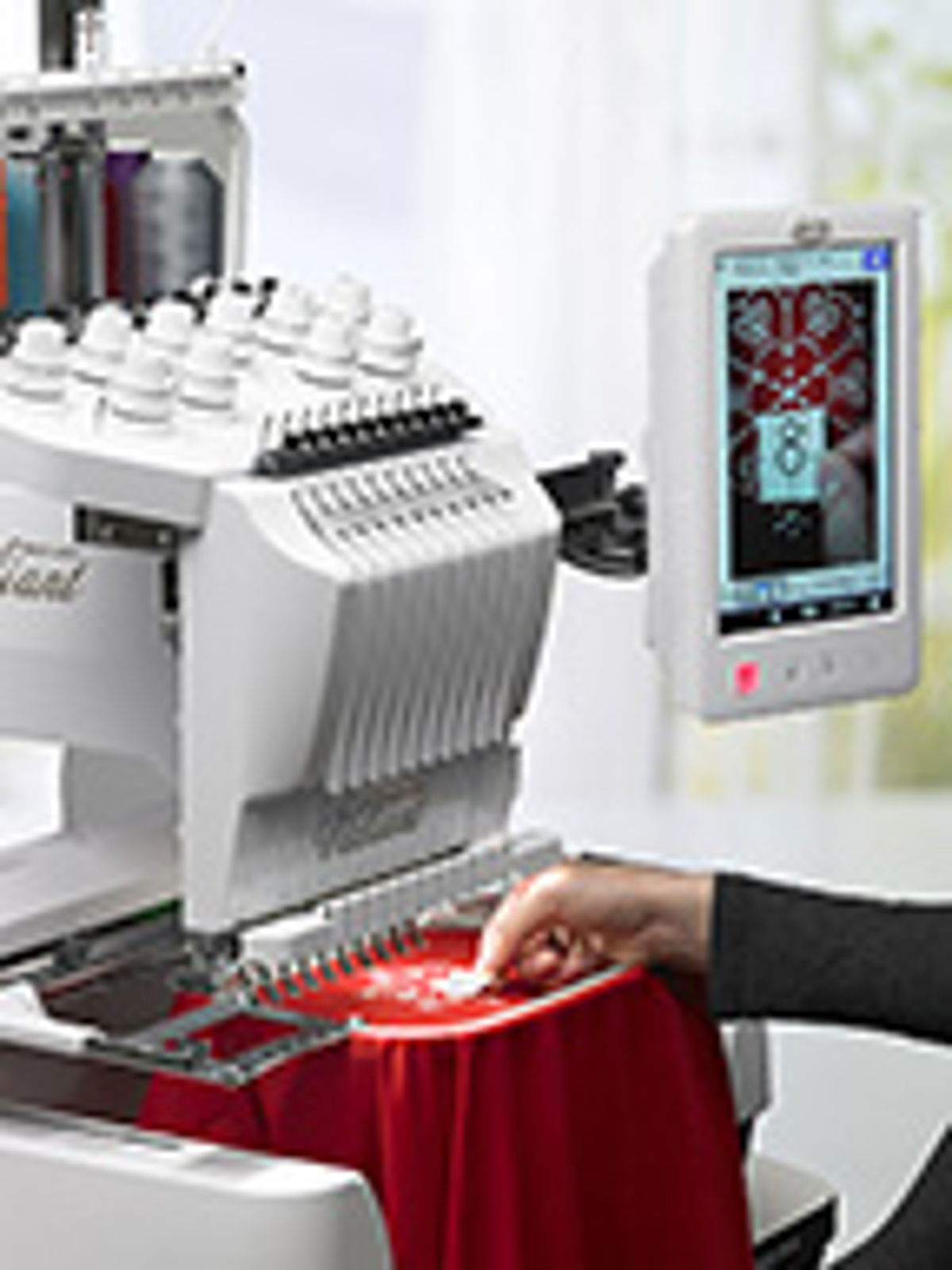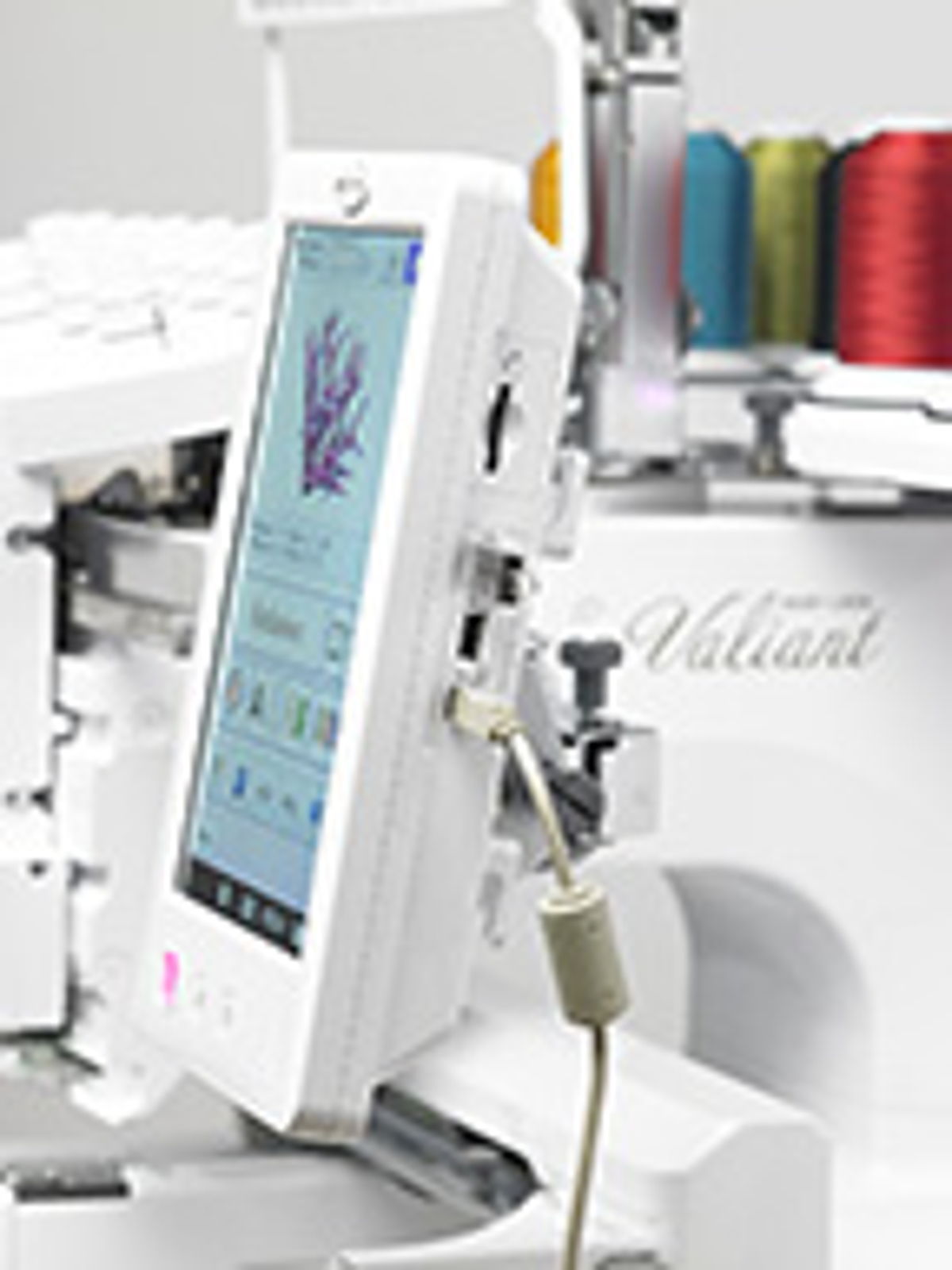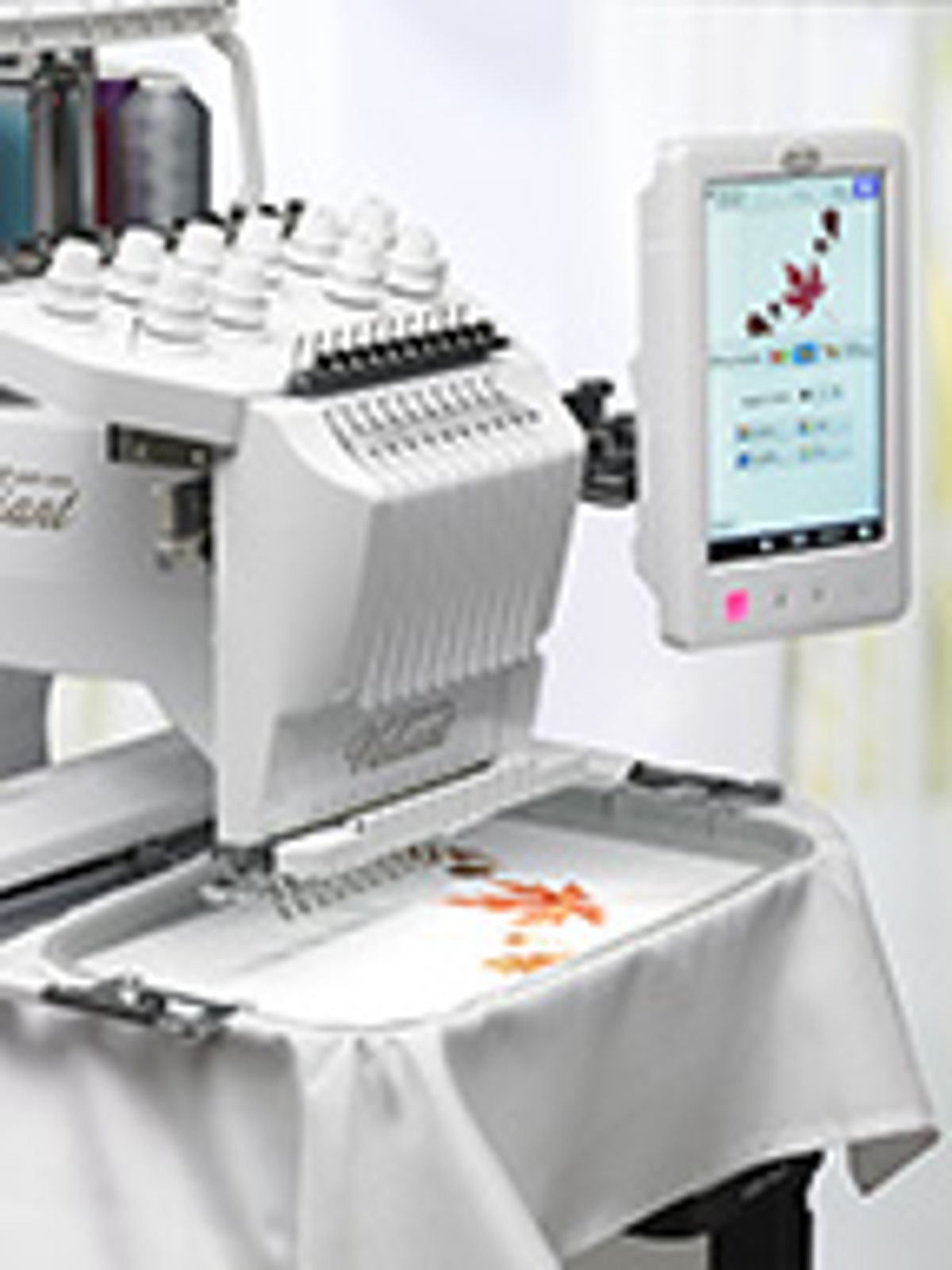 NeedleCam™ Digital Camera
The NeedleCam™ Digital Camera lets you see from the needle's point of view, so you know exactly where the needle will drop. Also, you can use the Perfect Positioning stickers included with your Valiant to place every design with extreme precision.
3 USB Drives:• 2 Type A • 1 Type B • SD Card Slot
With USB connectivity, you can easily import designs to your machine from a computer or flash drive.
Color Visualizer
Choose from random, vivid, gradient and soft and watch as your design is transformed in an array of color combinations. Have a favorite color in mind? Pin it to the Color Visualizer, and the Valiant will be sure to use it in the next set of color suggestions.
Text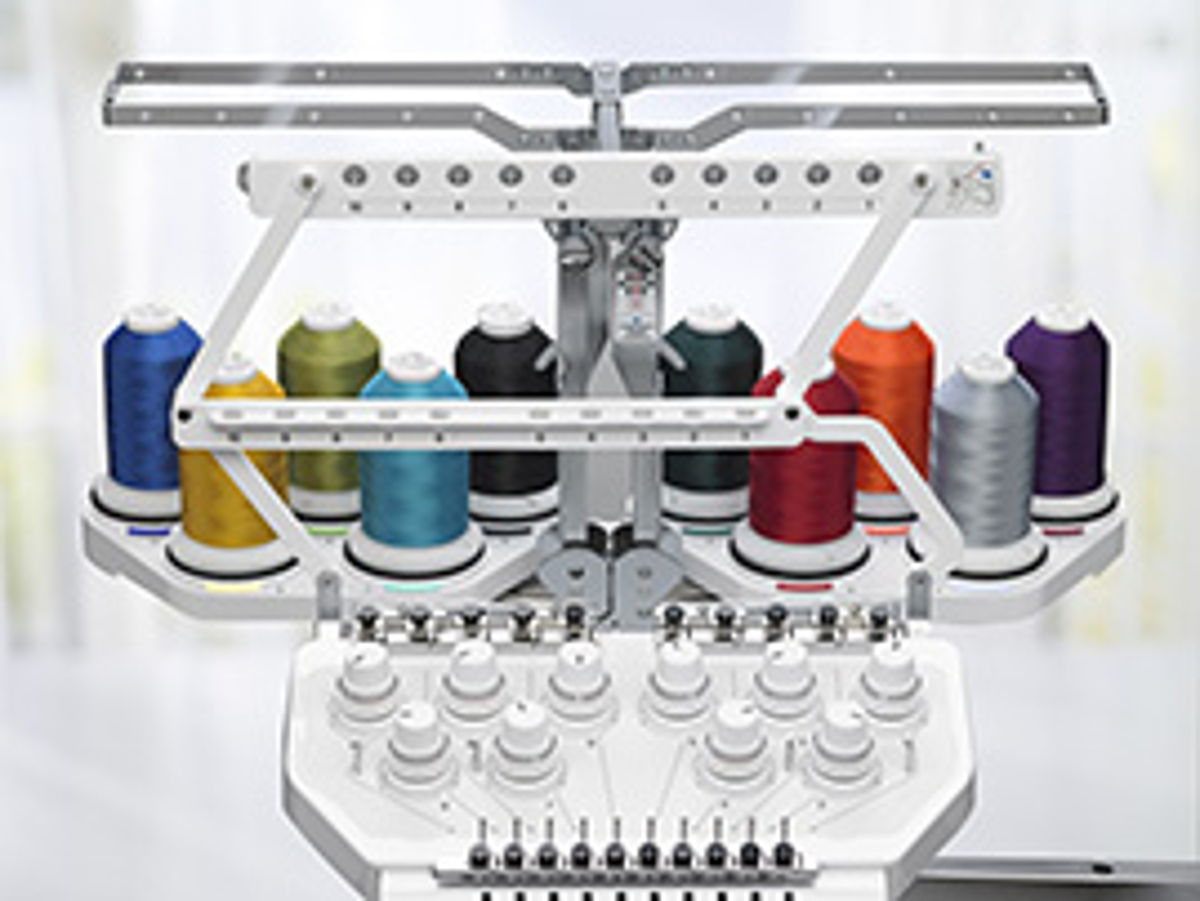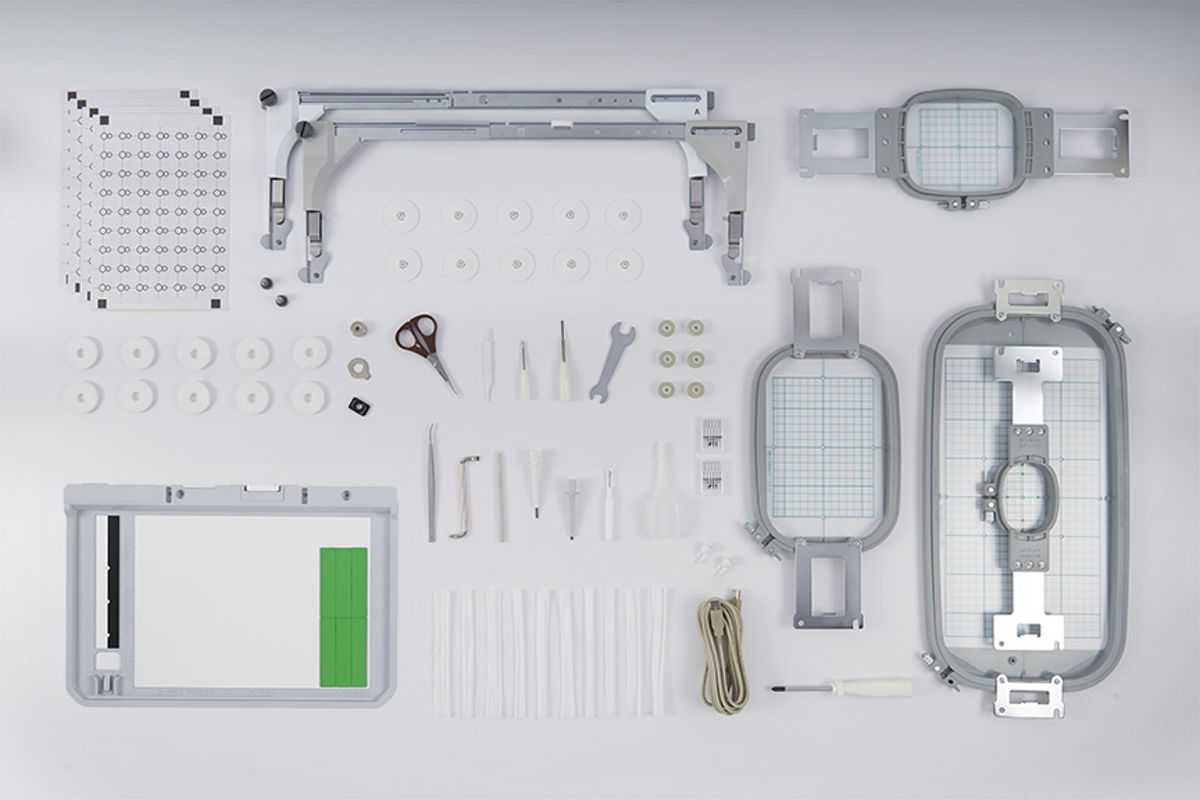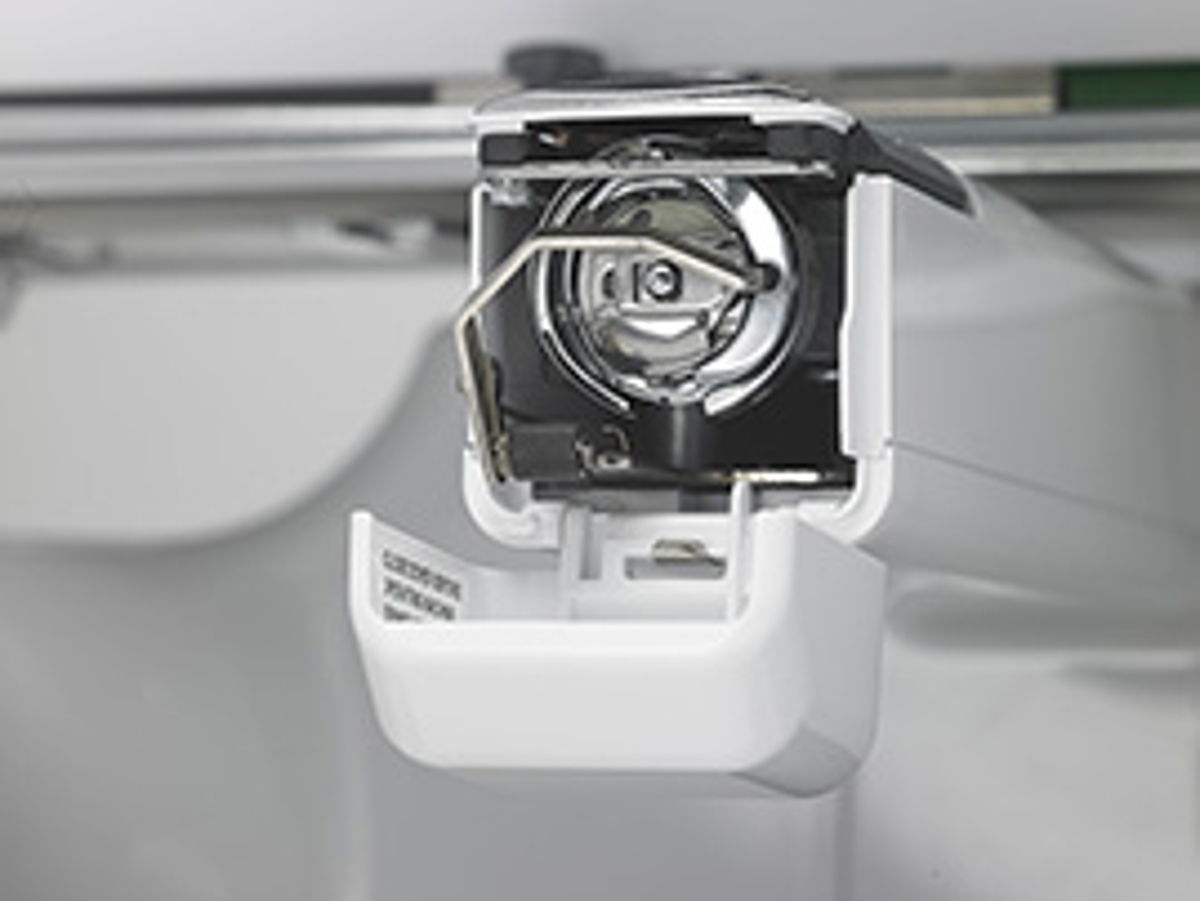 LED Spool Stand Lights and
The Valiant has many features built-in to help you concentrate on the art of embroidery instead of the mechanics. The 10 LED spool stand lights help keep your thread colors coordinated, and signal when a spool needs to be changed. Plus, the push-button needle threader makes thread changes effortless.
4 Hoops
The Baby Lock Valiant comes with four embroidery hoops:
Front-Loading Bobbin System
The convenient bobbin system with a front-loading, vertical hook means you can change bobbins without having to remove your embroidery hoop.
Semi-Industrial Features
• 10 needles - 1 position for each needle
• Maximum embroidery speed -1,000
stitches per minute
• Maximum embroidery fill stitching
speed -1,000 stitches per minute
• Embroiders up to 7-7/8" x 14"
(200mm x 360mm) embroidery field or
optional 14" x 14" (360mm x 360mm)
frame using Palette Software
• LCD Maximum reading capacity:
     o 500,000 stitches, or 127 color changes
Technology Features
• Color LCD Touch Screen IPS (TFT)
     o Shows 16,777,216 colors
     o Measures 10.1" diagonally
• NeedleCamTM Digital Camera for
perfect embroidery positioning
• NeedleCamTM Digital Camera for
embroidery and sewing positioning with
5X faster scanning, 3X higher resolution
• Precise Touch PositioningTM using
NeedleCam
• Live Camera Positioning
• Color Touch Screen shows:
     o Design placement using drag and
     drop capabilities
     o Estimated embroidery time display
     and stitch count
     o Embroidery progress bar
     o Needle advancement
     (1, 10, 100 or 1000 stitch increments)
     o Measurements displayed in inches
     or metrics
     o 200% Design magnification on screen
     o Color separation
     o Thread color indicator
     o On-screen hoop size indicator
     shows standard and optional hoops
     o Stitch simulator
     o Thread warning indicator
     o 300 color names
     o Screen saver customization
     o Customizable mouse pointer
• 2x faster CPU processing speed
• Mpeg-4 movie/video play function
• Exclusive Memory Storage for video
• Software/Connectivity - 3USB drives
     o 2 (Type A) drives, version 2.0
connects with flash drives ,
CD-Rom drives, mouse, and hub
     o 1 (Type B) USB direct connect to a PC
     o 1 SD card connection capability
• Linking capabilities allow up to 4
machines to connect to Palette 9 or later
software through a powered hub
• Reads multiple formats
(PES, PEC, DST, PHC)
• Upgradeable through USB connection
Needle Beam for precise alignment
IQ Designer - Free Update 11/2016
• Image scanning frame with magnets
• On-screen drawing capabilities
• Automatically create an embroidery pattern from a JPEG image 
• 90 Preloaded open, closed and region
shapes
• Able to select different line colors and
fill colors
• 6 Different stitch patterns: running,
bean, satin, no outline, chain stitch,
and candlewicking
• 13 Different fill patterns: regular fill, no
fill, stipple, and 10 decorative pattern fills
• Duplicate and paste editing preloaded
shapes
• Adjust line, fill and stippling width,
length and density properties
• Undersewing options
• Outline stamp shape creation for
Trapunto techniques
• 2 scanning modes
     o Fine- For illustrations
     o Standard -For line drawings
Customizing Features
• Built-in embroidery designs
     o 120 Designs
     o 41 Fonts including
     o Baby Lock exclusive script (70 characters)
     o Large floral alphabet (64 characters)
     o Large Block alphabet (61 characters)
     o Greek letters (24 characters)
     o Block alphabet (100 characters)
     o 3 Monogram fonts ( 156 characters)
and frame designs (15)
     o 140 Frame combinations
• Combine embroidery designs on screen
• Character/text array function
• Character spacing
• Multi-line text
• Character insert and group edit
capabilities
• 0.1°, 1°, 10°, and 90° Pattern rotation
• Enhanced design enlargement (up to
200%) and reduction (down to 60%)
capabilities
• Needle forward and reverse position
placement (1, 10, 100 or 1000 stitch
increments)
• Intuitive forward and reverse placement
by touchable progress bar and direct
number input
• Design duplication (up to 20 times in
both directions)
• Enhanced design grouping /ungrouping
allows designs or letters to move as a group
• Color Visualizer with pin-able color
selections
• Direct Spool Selection to change
color selections within designs
• Continuous border capabilities
• Automatic appliqué
• Automatic basting
• Mirror imaging
• Enhanced color sorting
• Monochrome option for
embroidery designs
• Short stitch delete
• Instant needle edge placement with
9 starting and 9 ending positions
• Thread color display in 6 options
• Custom color displays in 3 options:
o Original Palette, Custom Palette 1,
Custom Palette 2
• 4 Included embroidery hoops:
     o 7-7/8" x 14" (200mm x 360mm)
     o 5-1/8" x 7-1/8" (130mm x 180mm)
     o 4" x 4" (100mm x 100mm)
     o 1-1/2" x 2-3/8" (40mm x 60mm)
• Hoop sensor advises hoop size for
design chosen
• Hoop display shows hoop options onscreen
based on frame holder chosen
• Stitch simulator previews design on screen
• On-screen count and running time system
Convenience Features
• 5 LED lights with dimming settings to
illuminate work area
• LED spool stand lighting aids in thread
placement and lights for thread spool
warning
• Built-in memory (10MB) stores
embroidery designs to the machine's
memory
• Bobbin system: front loading, vertical
rotary hook
• Push button, automatic needle
threaders
• Upper thread breakage sensors
• Manual tension controls
• Automatic thread trimmer (upper and lower)
• Needle bar/frame move key extends the
hoop for easy access to the design while
still attached to the machine
• Oiling Key automatically places the race
in the correct position for oiling
• Start/Stop button with lock feature
• On-screen speed control
• Uses pre-wound bobbins
• Choose units of measure (in. or mm.)
• Built-in stylus holder
• Support Features
• Built-in operation guide with videos
• Built-in help messages
• Auto save feature - automatically saves
last design when power is turned off or
a power failure occurs
• Shipping weight (130 lbs. or 59 kg.)
• Machine weight (94 lbs. or 42.5 kg)
• Warranty (25 years product casting, 5
years circuit boards, 5 years electrical, 2
year parts, 1 year labor)
• Ask your Baby Lock Retailer about The
Optional Love of Sewing Membership
(BMV10-LOSM)
Featured products
Show products here! Go to the 'Home page - featured products' section of the theme settings in your Admin area to set up the collection you want to show!