Alliance
The Alliance single-needle, free-arm machine lets you embroider easily in tight quarters and even on three-dimensional projects. Its narrow embroidery arm and specially designed small hoops and frames take your embroidery places not possible with other machines—inside pockets, sleeves, even embroiderable stuffed animals!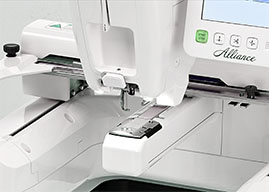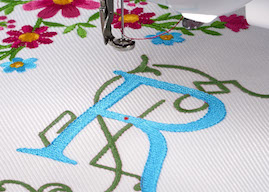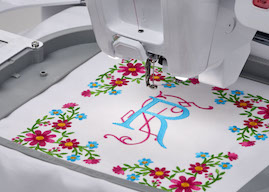 Single-Needle, Free-Arm Embroidery
With its single needle and free arm, the Alliance is built to embroider items and three-dimensional spaces that are difficult for typical embroidery machines, such as inside pockets, embroiderable stuffed animals, or even shoes.
Needle Beam for Embroidery
The Needle Beam highlights your needle position so you know exactly where your embroidery will start. That means perfect placement every time.
Large Embroidery Field
In addition to its ability to negotiate tight spaces, the Alliance can expand its reach to an 8" x 8" hoop, giving the dedicated home embroiderer or business startup room to create.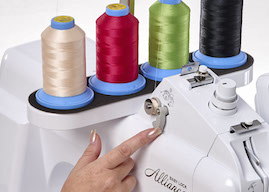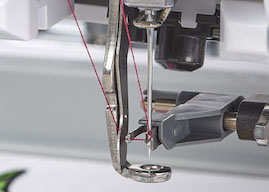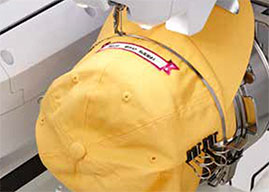 Quick-Set, Built-in Bobbin Winder
The Alliance bobbin system includes an automatic bobbin winder with an independent motor. The winder seat holds the thread in place and stops automatically when the bobbin is full.
Automatic Needle Threader
Get the stitching started with worry-free threading. The automatic needle threader puts your thread through the needle so you are ready to begin stitching.
Optional Cap Hoop and Cap Set
Embroider caps with speed and ease with this cap frame for your multi-needle embroidery machines. This snap-on frame allows you to effortlessly embroider along the curve of any cap. With additional cap frames, you can save time by having several caps hooped and ready to snap-in.
Semi-Industrial Features
Single-needle machine
Maximum embroidery speed 1,000 stitches per minute
Embroiders up to 8" x 8" (200mm x 200mm) embroidery field
Stitch reading capacity:
500,000 Stitches per design, or
127 Color changes
Technology Features
TruViewTM LCD Color Touch Screen:
Shows 260,000 colors
Measures 7" diagonally
Adjustable screen brightness
Clock and Date
Design placement using drag and drop capabilities
Estimated embroidery time display and stitch count
Needle advancement (1, 10, 100 or 500 stitch increments)
Measurements displayed in inches or millimeters
Color separation
Thread color indicator
On-screen hoop size indicator o 300 Color names
Needle Beam for precise alignment


 
Software/Connectivity
Optional External USB 1GB Flash Drive compatible up to 32GB
2 USB drives; 1 (Type A) drives, version 2.0 connects with flash drives and CD- ROM drives and 1 (Type B) USB direct connects to a PC
Reads multiple formats (PES, PEC, DST, PHC)
Upgradeable through USB connection or removable flash drive


 
Convenience Features
Built-in memory (1MB)
Bobbin system: front loading, vertical rotary hook
Quick-Set, built-in bobbin winder with independent motor
Can use pre-wound bobbins (Class "L")
Push button, automatic needle threader
2 LED lights to illuminate work area
Upper thread breakage sensors
Manual tension controls
Automatic thread trimmer (upper and lower)
Start/Stop button with lock feature
On-screen speed control while stitching
Change screen and thumbnail back-ground color
4-Thread spool stand to pre-thread standby colors for easy thread changes
Built-in holder with stylus


 
Support Features
Built-in operation guide
Built-in help messages
Auto save feature - automatically saves last design when power is turned off or a power failure occurs
Shipping weight (91 lbs.)
Machine weight (68 lbs. or 31 kg.)
Warranty
25-year product casting o 5-year circuit boards
5-year electrical
2-year parts
1-year labor
Optional Gold Standard Comprehensive Care Program available
Optional accessories available
Customizing Features
Built-in embroidery designs
125 Designs
25 Fonts, including large floral alphabet, Baby Lock exclusive script, Greek letters and large applique alphabet
140 Frame combinations
Combine embroidery designs on screen
Character/text array function
Multi-line Text
Character spacing
Change embroidery position using arrow keys
Pattern rotation (1°, 10° and 90°)
Design size change (10% reduction and 20% enlargement) on most designs
Needle forward and reverse position placement (1, 10, 100 or 500 stitch increments) and by color
Design duplication
Color sorting on non-overlapping designs
Automatic basting
Mirror imaging
Increase design thumbnail from 100% to 150% for easy viewing
Change color selections within designs
Continuous border capabilities and color sorting on border designs
Monochrome option for embroidery designs
Instant needle edge placement (9 starting and 9 ending positions)
Custom color displays in 3 options: Original Palette, Custom Palette 1, Custom Palette 2
6 Embroidery hoops, including the largest 8" x 8" (200mm x 200mm)
Hoop sensor advises hoop size for design chosen
On-screen count, version number and running time system


 
Included Assesories
Touch pen (stylus)
Accessory Case
Prewound bobbins
Metal bobbins
USB cable
Seam ripper
Scissors
Tweezers
Screwdrivers
Spool
Oiler
Tweezers
Spool caps
Cleaning brush
Embroidery frame holder "a"
Embroidery frame holder "e"
Embroidery hoops:
8" x 8" hoop (200mm x 200mm) #ALF200
4" x 4" hoop (100mm x 100mm) #EPF100
1-5/8" x 2-3/4" hoop (41mm x 70mm) #ALF70
2" x 2" hoop (50mm x 50mm) #ALF50
1-1/2" x 1-3/4" hoop (38mm x 44mm) #ALF44
1-15/16" x 2-15/16" hoop (33mm x 75mm) #ALF74
Featured products
Show products here! Go to the 'Home page - featured products' section of the theme settings in your Admin area to set up the collection you want to show!