Accord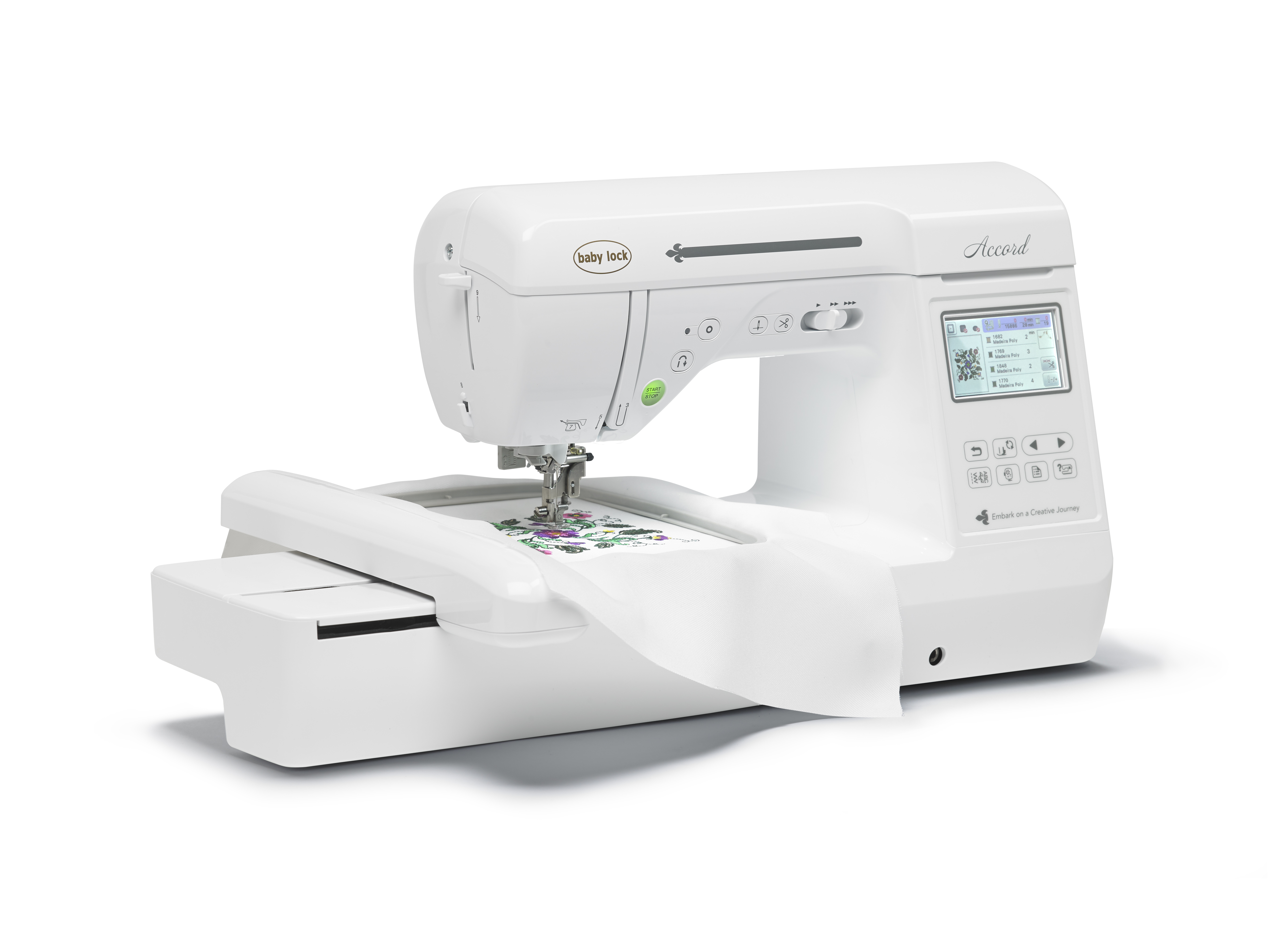 If you want to step up your creativity to include embroidery,the new Baby Lock Accord fits the bill. This machine will suit your sensibility for creating even more elegant projects with embroidery. It delivers all the features you need: 141 built-in designs, 250 built-in stitches, advanced thread cutter, Quick-set bobbin and more. Move your sewing projects to the next level with Accord!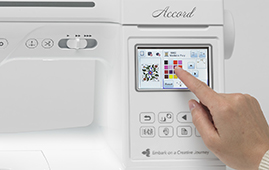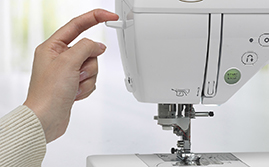 LCD Touch Screen
The Accord 3.2" x 1.8" Color Touch LCD Screen makes it easy to select the perfect embroidery designs to compliment your creations. You'll have fun choosing from the dozens of built-in designs and decorative stitches and viewing your selection on the digital display screen.
Advanced Needle Threader
Threading a needle has never been easier than with this innovative threader. With just a few simple motions, your needle is threaded and ready to use - it's so easy, you can do it with one hand!
250 Built-in Stitches
The Accord has 250 built-in stitches and 5 alphabet styles.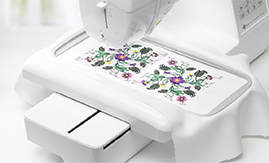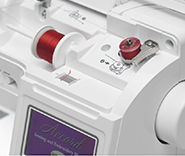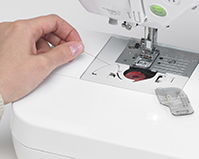 Multi-Position Embroidery Hoop
Embroider any of the 141 built-in designs in Accord's library with the included 5" x 12" Multi-Position hoop. It is perfect for personalizing any of the 13 fonts too.
Quick-Set, Bobbin Winder
The Accord takes all of the hassles out of sewing - including winding your bobbins! The quick-set winder holds the thread in place and stops automatically when the bobbin is full.
Quick-Set, Top Loading Bobbin
Avoid the struggle of changing your bobbin with the quick-set feature. Simply drop your bobbin in the machine, pull your thread through the slot, and let your machine do the rest of the work.
Technology Features 
USB (Type A)
• LCD color touch screen (3.2" x 1.8")
• Advanced needle threader
• Automatic thread cutter
• Quick-Set, top-loading bobbin
• Quick-Set, bobbin winder
• Upper and lower thread sensors to alert when threads are
broken
• 2 LED lights illuminate sewing surface


 
Embroidery Capabilities 
• Built-in embroidery design library:
     o 141 Embroidery designs which include 90 Baby Lock
exclusive designs
     o 140 Frame Patterns
     o 13 Font styles in upper and lower case including 
          • Extra large block alphabet and characters (32                total
          • Exclusive script alphabet and characters (72                  total)
• Up to 5" x 7" (130mm x 180mm) embroidery field
• Reads embroidery designs with a stitch capacity of up to
200,000 stitches per design
• Memory for saving embroidery patterns up to 1MB
• Customize embroidery pattern and thumbnail background
colors
• Embroidery design editing:
     o Enlargement (up to 20%)
     o Reduction (up to 10%)
     o Mirror imaging
     o 1°, 10°, and 90° pattern rotation
• LCD color touch screen shows
     o Estimated embroidery time display and stitch count
     o Needle position placement (1, 10, or 100 stitch
increments)
     o Measurements displayed in inches or millimeters
     o Thread color indicator
     o On-screen hoop size indicator
     o 8-Point trial check points
     o Thumbnail images viewed at 150% the normal size
• Embroidery speed up to 650 spm
• 300 Color names
Advanced Sewing Features
• 250 Built-in stitches including:
     o 91 Utility (with 10 styles of one-step buttonholes)
     o 8 Directional Feeding stitches
     o 50 Decorative
     o 17 Satin
     o 12 Decorative Satin
     o 14 Cross stitch
     o 58 Combinable utility stitches
• 5 Alphabet Styles
• Side Feeding
• Stitch length 0.0mm - 5.0mm on sewing stitches
• Maximum Utility stitch width: 7mm
• Sewing speed up to 850 spm
• Utility stitch editing capabilities:
     o Store personal stitch settings for each utility stitch
on machine
• Decorative stitch editing capabilities:
     o Edit and combine Character/ Decorative stitches
     o Up to 15 stitch patterns (total of about 128KB) can
be saved in the machine's memory
     o Lock key for Utility and Decorative stitches
     o Variable needle positions
     o Back to the Beginning key returns to the beginning
     of a decorative stitch pattern
• Twin needle settings key
Convenient Sewing Features
• Convenient One-Touch Buttons
     o Start/Stop
     o Reverse sewing
     o Needle up/down
     o Thread cutter
     o Reinforcement Key
• Needle plate with scale in inches and centimeters
• Hands-free Presser Foot Lift
• Electronic foot control with separate power cord
• Free arm with drop feed lever
• Accessory storage compartment
Instructional and Help Resources
• Built-in Operational Guide
• 18 Languages
Additional Information
• Optional Extension Table (BLMCC-ET)
• Optional Embroidery Hoops
     o Small 1" x 2-1/2" (20mm x 60mm) (EF82)
     o Medium 4" x 4" (100mm x 100mm) (EF83)
     o Straight Stitch Needle Plate and Foot Set
     (BLMAC-SS)
• Gold Standard Comprehensive Care Program (BLMCC)
Featured products
Show products here! Go to the 'Home page - featured products' section of the theme settings in your Admin area to set up the collection you want to show!